Welcome to Sherlock Amplifiers, the home of quality tube guitar amplification and guitar related technology proudly designed and hand made in Australia. We offer a growing range of products designed and built to the highest standards. Sherlock Amplifiers has been working with guitarists and helping them to find their sound for over 20 years and have over 30 years experience in Electronics.
Sherlock Amplifiers is now CNC equipped .
This means that we can make Name Plates, Face Plates for amps, Signs and even Custom Metal chassis and Timber cabs. All we need is a CAD drawing and we can make it for you.
New Sherlock Amps review.

New Sherlock Amps review.
Mark Davie from Audio Technology magazine
has done a review on Dale Sherlock, Tubes
and Tubes amps.
Click to see the review.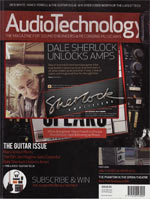 We are now agents for:

Drop off and pick up Guitars and Basses
for Guitar Tuning Services at
Sherlock Amplifiers

ANGRY ANT
5 Watt Tube Amp


Although very small in stature, this little amp head boasts an amazingly big 5 watts of 6L6 tube tone! Also featured is a Speaker Mute Switch and Line Out.



Best viewed with